GREEN VINYL LIMITED EDITION DAVID BOWIE D. J. 1st UK PRESS 1979 RCA, NEAR MINT DJ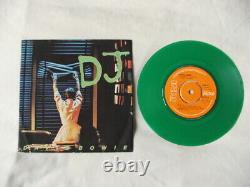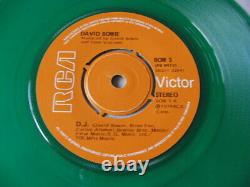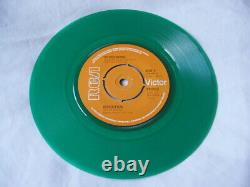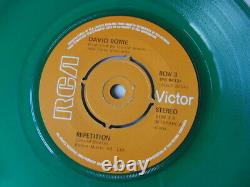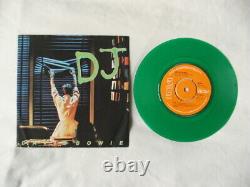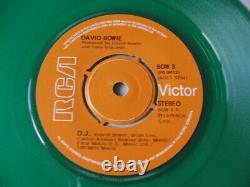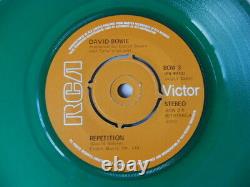 These new rules penalise sellers who continue to offer their items worldwide and make it unviable to sell high-value items to some countries. Please note that I send ALL international items tracked, which. This is an original limited edition green vinyl 1st pressing, bought in the UK in 1979. It is not a reissue. This has been well looked-after and stored properly and is in Near Mint (NM) condition.
Detracting features not covered above: None. All photographs are of the actual item for sale. Where gradings are given these are visual gradings and are based on the UK Record Collector Grading System (see below for details). Information about descriptions and gradings. My items are always described accurately and fairly. I always do my best to point out any blemishes which might detract from the item and all photographs are of the actual item you will get. Where gradings are given these are based on. The UK RECORD COLLECTOR GRADING SYSTEM. This grading system differs from some other grading systems, in particular the Goldmine grading system. The record itself is in brand new condition with no surface marks or deterioration in sound quality. The cover and any extra items such as the lyric sheet, booklet or poster are in perfect condition. Records advertised as Sealed or Unplayed should be Mint.
The record shows some signs of having been played, but there is very little lessening in sound quality. The cover and packag­ing might have slight wear and/or creasing.
The record has obviously been played many times, but displays no major deterioration in sound quality, despite noticeable sur­face marks and the occasional light scratch. Normal wear and tear on the cover or extra items, without any major defects, is acceptable. The record has been played so much that the sound quality has noticeably deteriorated, perhaps with some distortion and mild scratches.
The cover and contents suffer from folding, scuffing of edges, spine splits, discoloration, etc. The record is still just playable but has not been cared for prop­erly and displays considerable surface noise; it may even jump. The cover and contents will be torn, stained and/or defaced.
The record will not play properly due to scratches, bad surface noise, etc. The cover and contents will be badly damaged or partly missing.
The record is unplayable or might even be broken, and is only of use as a collection-filler. Visually-graded vinyl vs play-graded vinyl.
Many people collect vinyl and never play it, whereas other people collect records because they want to play them. A visual grading will identify physical flaws (such as scratches) and can help determine whether a record has been cared-for properly, but it will not identify noise or crackle caused by non-visible sources. Most vintage records are likely to have some background noise even if they look perfect. I believe that records are for playing and so I try to play-grade records whenever possible.
I always state in the listing if I have played a record prior to listing it. If I have play-graded the record I will usually only give a brief description of how the record looks i.
The grading in the listing will be a play-grading and may be slightly different from the grading that the record would receive from a purely visual inspection. Most vintage records are not 100% perfectly flat and so I will only mention this aspect if it is very significant or has an impact on the way the record sounds. If I haven't play-graded the record, it will be given a visual grading.
Mono records and stereo records have different grooves. A stereo record produces a stereo sound via both lateral and vertical groove modulation whereas a mono record is not intended to produce any sound from vertical modulation. Playing a mono record with a stereo cartridge will create distortion because it is trying to pick-up the vertical (stereo) part of the signal, whereas this is not intended to be heard on a mono record and so is just noise. Using a pre-amp with a mono switch will eliminate the noise caused by vertical modulation leaving just the lateral groove signal which is how the record was intended to be heard. Based on the assumption that most people choosing to listen to a mono record will have the right equipment to listen to it, I play all mono records via a pre-amp with a mono switch.
My play-grading is based on how the record sounds when played through a mono switch. If you do not have a mono switch on your amp or pre-amp you will be reproducing the noise from the vertical part of the signal and so the record will not sound as good. This is not any fault of the record, it is inherent to playing any mono record through a system that it was not designed for.
I have some very simple terms and conditions. My items are fully guaranteed.
If it is not as described. I care about the records I sell and believe that they need to be carefully and securely packaged to ensure that they survive their journey through the post. Vinyl is removed from the sleeve for posting and the contents will be protected with rigid cardboard stiffeners. Packages are labelled "Do not bend" and securely sealed with "FRAGILE" parcel tape.
I support the use of recycled materials and so I may sometimes use recycled packaging. If you wish your item to be sent in entirely new packaging please let me know before paying for it.
My P&P charges are'totally transparent'. Sending items costs more than just the stamps on the package. But I try not to charge more for packing and posting your item than it actually costs me to do so. To cover some of these expenses.
I add a nominal figure to the basic cost charged at the post office athough the actual cost to me is higher than this. To quote an exact cost for every LP is difficult because of the wide variance in weight e. Abbey Road weighs around 230 grams whereas Led Zeppelin III weighs around 390 grams. But the majority of single LPs, when packed, will weigh around 550 grams and I have based my P&P rates on this. Double LPs will be charged as two LPs, triple LPs will be charged as three LPs. Box sets etc will be charged according to weight. Usually delivered within 3-5 days of despatch.
Please wait for my invoice before paying. To any country OUTSIDE the UK. Overseas orders will ONLY be sent tracked and/or signed. Europe 1 (Most EU countries). Europe 2 (including Russian Federation and others).
This item is in the category "Music\Vinyl Records". The seller is "eachtohisown" and is located in this country: GB.
This item can be shipped worldwide.
Colour: Green
Format: Record
Edition: Limited Edition
Artist: SEE LISTING TITLE
Material: Vinyl
Release Title: SEE LISTING TITLE
Release Year: 1979