Ramones Mania 2x LP Blue/Green Colored Vinyl 2010 RSD Limited /1000 NM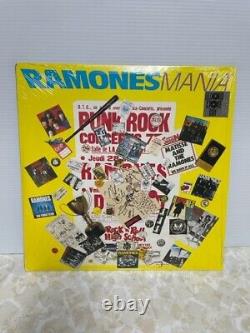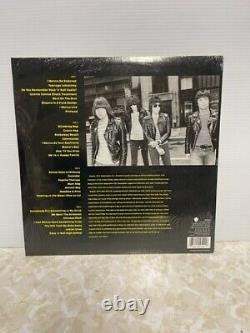 This record is in excellent condition, no obvious signs of wear. Cover has some light shelf wear. The import details and only slightly boring business stuff you need to read but seriously..
Please go ahead and read this. Most single LP Records & 12? Mailer with additional packing precautions. Depending on the availability, a larger item may arrive in a double taped new or used cardboard box with; air-bubbles, peanuts, padded mailers and packing paper.
I try to re-use as much packaging product as I can. I hope that you can help re-use some of it too. Get a PO Box or have packages held at your local post office. Any item refused, marked return to sender, undeliverable, vacant, etc. It is easier and it protects both of us that way.
Music, game and other discs may be run on a professional buffer machine and then described as Like New. Used & Like New, DVD, CD & BluRay games and movies may or may not have intact digital download codes or coupons.
My items come from many varied sources (it would be an impossibility to tell you the pedigree of every item I have for sale) sometimes but not always including; smoking households, homes with pets, ect. Asking us to change the value of a package is illegal and we will absolutely not deal with it. If you pay by echeck, I open all unpaid item cases in 5 days, so better hope it clears when it is supposed to. I'll help you the best that I can. Need your item faster, like overnight?
Do you just like asking pertinent questions to the task at hand? I'm happy to help you with whatever you need BEFORE checkout. I'm happy and determined to help and make your sale right.
I have very limited staff and mistakes are made from time to time. We do our best to resolve and prevent these issues from happening but unfortunately we are all human and we make mistakes. Remember you need to save any damaged packaging and the damaged item as it may need to be given to the PO as part of a claim. I have online view-able tracking on every package so just let me know and both of us can easily look into it. It will dramatically increase the chances of shaking loose any stuck packages within the system. If you need a few extra days, I really don't mind at all. I do mind if you don't ask. Feedback is automatically given out after you receive your item and are happy. Make sure your address is correct before you checkout. I pride myself on providing professional, committed and honest service. I take it very seriously and promise to treat you with the same respect and courtesy that I do with all my records store vistors. Up to 20% of item's price. Up to 50% of item's price.